One Voice United Rally - June 8th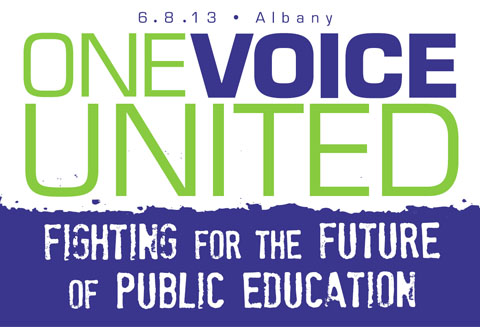 We encourage NYSUT members, parents, students and community activists to come to Albany on June 8 to speak with one voice to fight for the future of public education.
Find out more at NYSUT.org/RallyJune8.
AFT calls for moratorium on Common Core consequences
Three-quarters of public school teachers surveyed support the Common Core State Standards, yet just 27 percent said their district has provided them with the tools and resources necessary to teach the standards, according to the results of a new AFT poll.
more
NYSUT's "Tell It Like It Is" listening tour is coming to the Rochester region on Wednesday, May 29, 2013. Members are invited to join President Dick Iannuzzi and Vice President Maria Neira for an open forum on standardized testing, the impact of the Common Core standards on students, and other related topics. They want to hear directly from you.
The results of the 2013 RHEA Executive Board elections are now finalized. The Executive Board for the 2013-2014 and 2014-2015 school years will be:
President: Brad Crooks (Leary)
First Vice President: Brian Usselman (High School)
Second Vice President: Bob Graham (Sherman)
Secretary: Adam Huck (Winslow)
Treasurer: Mike Fantauzzo (High School)
NYSUT Days at Darien Lake
Darien Lake Amusement Park will be having exclusive discount days for NYSUT members from July 12-19, 2013. Tickets are $19.99 (a reduction of $25.00). If you are interested in this great opportunity, you must fill out an order form and mail it by July 8, 2013. You may also fax the order form if you are paying by credit card.
Pages